Simms engineers advanced outerwear to turn a collar to the cold and wet. We're also well aware that keeping those comfort ideals afloat depends on not shipwrecking the essential resources and environments our products are designed to excel in. That's why Simms maintains an unwavering commitment to protecting and conserving this planet's fresh- and saltwater fisheries from imminent environmental threats. Since the beginning, Simms has partnered with leading fisheries conservation organizations the world over, recently spearheading Aquatic Invasive Species education and awareness, while innovating CleanStreamTM technologies to minimize the spread of "hitch-hiking" organisms.


From an angling perspective, every individual who has owned and enjoyed using Shimano tackle has a reason to thank a Japanese visionary named Shozaburo Shimano, who in 1921 declared "I aim to make Shimano's products the best in Kansai, then the best in Japan, and finally the best in the world."

For over 80 years, Shimano has concentrated on precision engineering, one step at a time. Creating the most innovative products and processes you can hold in your hand today.
Founded in 1980 by legendary rod designer Don Green, Sage was created with one idea in mind - to build the world's finest performance fly rods. Using world-class materials and years of experience gained while working with Fenwick and Grizzly rod companies, Don revolutionized the fly fishing world.


When Sage started business on Bainbridge Island it was first known as Winslow Rod Company, and although the name quickly changed to Sage, the location on Bainbridge Island is still the same even today. Originally it had six employees and about 1,500 square feet of manufacturing space. Today it has grown to 175 employees working in a 30,000 square foot space. The following story sheds light on Sage throughout the past 21 years.
Almost three decades ago, Gary Loomis founded G.Loomis® and quickly attracted the attention and admiration of the world's most discerning anglers. Throughout the evolution of carbon fiber rod design, Gary distinguished himself as the master. Using leading-edge technology and engineering, he designed tools that have defined high performance in rods.
Gamakatsu® is the leading fish hook manufacturer in Japan, and for that matter worldwide. Gamakatsu is constantly testing new materials and striving to improve their products which already set the standard for the rest of the industry.

In 1992 Gamakatsu® USA inc. was established to provide Gamakatsu® brand hooks to the U.S. market, followed by SPRO, The Official Gamakatsu's exclusive agent, established in the Netherlands in 1994 to service the European market.
Experience, Hard Work, and Attention To Details
Is what you get with Silver Sea Adventures. We love what we do and we work hard to earn and keep your business!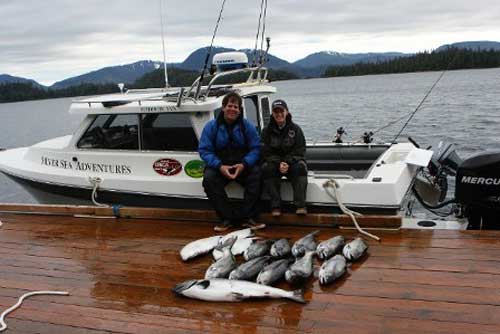 Owners
Captain Steve Stumpf has been a professional guide on these waters for the last 24 years. With more than 2,000 days on the water, he understands the fishing grounds and the right techniques to ensure a successful catch.

Hard work, combined with the love of fishing and people keep Steve's boat full every year. Nanette Stumpf has been called the "batteries" of Silver Sea Adventures. From the time you wake up until the end of the day you can count on Nan to make sure everything is in order. Her management skills, extensive knowledge, and willingness to please keep our customers coming back year after year.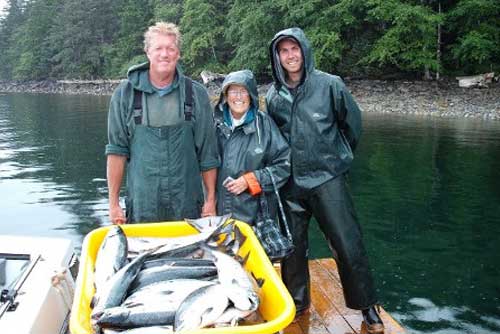 Captain

Rocky Kness is returning to Silver Sea Adventures for a sixth season. His passion for Alaska motivated him to retire young and live his dream on Prince of Wales Island. His wonderful attitude and personality combined with an uncanny knack for catching fish make him a customer favorite!

The Crew

Taylor, Hayley, Madison, and Kennedy Stumpf (pictured with mom). They are all grown up now and help with all the functions of the lodge. Kennedy and Madison process your fish each day, Hayley does all your housekeeping and Taylor fills in wherever a hand is needed. The girls are hardworking and a joy to be around. They are truly the essence of what a family business is. Yes, they caught all those king salmon!

Salmon and Halibut Fishing from Craig, Alaska
Prince of Wales Island
If you are looking for incredible saltwater fishing, uncrowded freshwater angling, unbelievable scenery and amazing wildlife then you just found it with the West Coast of Prince of Wales Island in Southeast Alaska!
Clients & Testimonials
Over 25 years of happy customers, great memories & delicious fish.