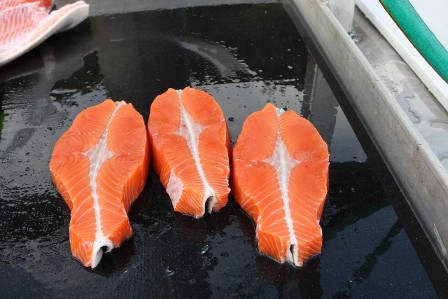 The fish you catch is the fish you take home! Your catch will be bled and iced on the boat each day. Upon returning to the dock our cleaning staff will professionally fillet your catch. It will then be vacuum packed and flash frozen. Finally, your fish will be boxed and return home with you as part of your checked baggage. Your fish is your last memory of Silver Sea Adventures, so we make every effort to send you home with the highest quality product possible.

If you wish you may have some of your fish smoked or canned. We have a couple local operations that do a very nice job. We can discuss this option with you during your stay.
Wildfish Cannery in Klawock does our smoking and canning.  Fish that is caught on your first day can be smoked and ready to take home with you.  Fish that are caught later in the trip can be canned and shipped to you directly.  We will discuss these options with you apon arrival.
6690 Big Salt Lake Road
Klawock, Alaska 99925
+1 907 755 2247
Experience, Hard Work, and Attention To Details
Is what you get with Silver Sea Adventures. We love what we do and we work hard to earn and keep your business!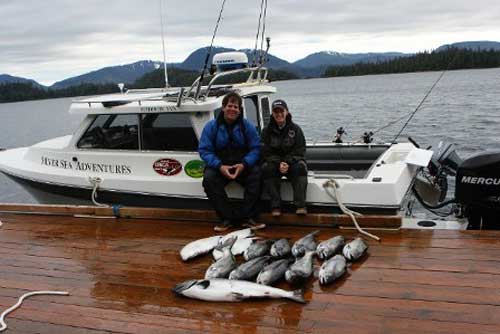 Owners
Captain Steve Stumpf has been a professional guide on these waters for the last 24 years. With more than 2,000 days on the water, he understands the fishing grounds and the right techniques to ensure a successful catch.

Hard work, combined with the love of fishing and people keep Steve's boat full every year. Nanette Stumpf has been called the "batteries" of Silver Sea Adventures. From the time you wake up until the end of the day you can count on Nan to make sure everything is in order. Her management skills, extensive knowledge, and willingness to please keep our customers coming back year after year.
The Crew

Taylor, Hayley, Madison, and Kennedy Stumpf (pictured with mom). They are all grown up now and help with all the functions of the lodge. Kennedy and Madison process your fish each day, Hayley does all your housekeeping and Taylor fills in wherever a hand is needed. The girls are hardworking and a joy to be around. They are truly the essence of what a family business is. Yes, they caught all those king salmon!

Salmon and Halibut Fishing from Craig, Alaska
Prince of Wales Island
If you are looking for incredible saltwater fishing, uncrowded freshwater angling, unbelievable scenery and amazing wildlife then you just found it with the West Coast of Prince of Wales Island in Southeast Alaska!
Clients & Testimonials
Over 25 years of happy customers, great memories & delicious fish.